The extent of insecurity that would lead people to take the proper and required security measures depends on the location of a house, the lifestyle of the family, the crime rates and the protection offered by public services, and is related to problems of current societies. In any case though people don't feel safe anymore not even in the safest city of the world and that's why they often seek consultation at locksmith services and need to have answers to the most common questions.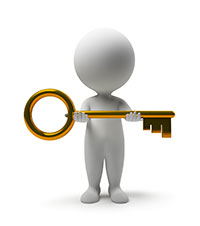 Frequently Asked Questions
Why must I change locks regularly? The locks of your house or office are supposed to offer you security, protect your privacy and provide tranquility. Though, locks and keys worn down over the years and they won't meet the criteria of good security while crime rates remain high. At the same time, technologies provide new products, which are more reliable and offer better security and, thus, encourage lock replacement.
Are alarm systems and cameras recommended? They will certainly add to your security. On the other hand, it would depend on the size of the house, its location and crime rates of Gold Canyon. If your house is tiny and practically has no yard or is situated in a family neighborhood where no criminal actions were noticed is not absolutely necessary; yet, it is recommended for higher protection.
Do I need electronic locks in the office? It's a great idea because you must protect sensitive data or even clients' documents and money. It's a big responsibility and it is required to have the locks replaced with the best in the market.
Why must I have a second ignition car key? The main reason is to avoid auto lockout. It's good to keep it on you because it will save you in times you forget your regular key to an office or you lose it.
Is it important to replace the locks on secondary doors as well? All window and door locks must be replaced frequently including the ones in the garage, basement, attic or any other room of the house. Don't forget that intruders prefer secondary doors than the front door.